Sylvia Brighman Dimiziani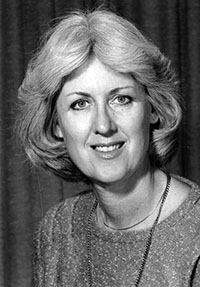 Soprano Sylvia Dimiziani taught in UB's music department for over 30 years. A prolific performer early in her career, she later devoted herself to teaching.
Dimiziani graduated with a bachelor's degree from Pomona College in 1959. She studied at L'Ecole Normale de Musique in Paris as a Fulbright Scholar before graduating with a master's degree from the Julliard School of Music in 1961.
From 1964 to 1966, Dimiziani was part of the Center for Creative and Performing Arts Creative Associates program at UB. As soprano artist-in-residence, she performed many new music concerts in both Buffalo and New York City.
In an interview with Renee Levine, Dimiziani remembered her time at the Center of the Creative and Performing Arts:
"What I remember most was that it was a group of many wonderful musicians; so proficient; they could perform anything. My favorite things were the rehearsals. Wrong notes didn't exist. There was a very refined understanding; a very high level of music making. We were dealing with often very difficult scores, new notation, breaking new ground. It was wonderful being able to offer this level of music-making to the public. It was quite extraordinary that way that concerts engaged the community -- now we seem to play for ourselves. Then, such a cross-section of people came out to hear what we were doing. We were interpreters rather than mere 'performers.'"
Levine, Renee. (2001). In the Center: The Center of the Creative and Performing Arts in the State University of New York at Buffalo "Conversation with Sylvia Brigham Dimiziani" vol. 2
Dimiziani began teaching at UB's Department of Music in 1970 as an Assistant Professor. She became an Associate Professor in 1975, a position she held until her retirement in 2001. While at UB, Dimiziani taught private voice, vocal chamber music, and vocal dictation as well as graduate seminars on performance specialties. She also developed the department's vocal dictation course and headed the department's voice program.
Dimiziani served on UB's Faculty Senate for a number of years. She also served on a number of committees within the Department of Music and the Faculty of Arts and Letters, as well as on the Music Review Panel for SUNY's Thayer Fellowship in the Arts. Her research interests were in performing practice and the literature of vocal chamber music of the 16th and 17th centuries.
During her career Dimiziani performed with the New York Philharmonic Orchestra, the Berlin Philharmonic, the Orchestre des Conservatoires de Paris, the Domaine Musical of Paris, the Santa Cecilia Orchestra of Rome, and the Rome Philharmonic. Dimiziani was also featured in Maggio Musicale Fiorentino, the International Music Festival in Palermo, Nuova Consonanza in Rome, Monday Evening Concerts of Los Angeles, Vita Musicale Contemporanea of Florence, Pan-American Festival in Washington, DC, and CBS-TV's Camera Three.
In 1965 she performed in Lukas Foss' "An Evening of New Music" at Carnegie Hall in New York City. Dimiziani's performance was well received. The Village Voice remarked that her voice was "light and sweet, her approach [was] extremely feminine and personal and her tones [were] true."
Affiliation(s):
Music
Record Group(s):
16
---
Biographical File Contains: