Elizabeth (Betty) Dimmick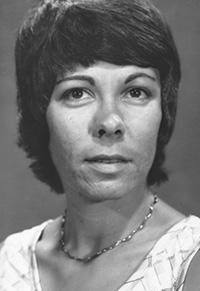 "An outstanding athlete throughout her life, Dimmick's contributions at UB have to be measured against the fact that early in her tenure she was diagnosed with Multiple Sclerosis. Despite the challenges that the disease poses, Dimmick continued to teach and serve as an administrator capably throughout her tenure at UB."
Elizabeth "Betty" Dimmick came to UB in 1974 as the head coach of the women's tennis program and instructor of physical education. She coached varsity tennis from 1974-1976 and varsity field hockey from 1977-1985, serving as Director of Women's Athletics at UB from 1976-1986.
During her tenure as Director of Women's Athletics, Dimmick saw a fledgling women's program grow into a successful Division I-A member.
Dimmick graduated from SUNY Brockport in 1967 with a major in Health and Physical Education. She received a Master of Science in Health and Physical Education in 1968. Dimmick played basketball, field hockey, softball, and volleyball during her undergraduate career at SUNY Brockport. She was inducted into the SUNY Brockport Athletic Hall of Fame in 1991. She is also a member of Kenmore East High School's Athletic Hall of Fame.
Dimmick also served, during her tenure at UB, as Senior Woman Administrator within the Division of Athletics and as Coordinator of Recreational Instruction. She served on several National Association of Intercollegiate Athletics (NAIA) and NCAA national, regional, and state committees. She was a Buffalo Field Hockey Association president and a national official for field hockey and basketball.
Dimmick retired from UB in 2000 after 26 years of service to the Division of Athletics as a coach, administrator, and faculty member.
Affiliation(s):
Athletics, Women's Athletics
Record Group(s):
31
---
Biographical File Contains: