Emma Elizabeth Deters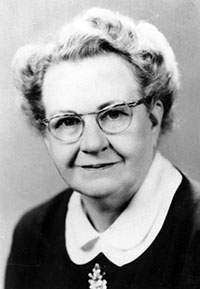 Born:
1894
Death:
1985
Emma Deters was known as a hard working, sensitive, and honest person, making her well respected and admired for her work and dedication to UB.
After graduating from Fosdick-Masten High School, Deters attended Hurst's Business School. She then attended the University of Buffalo taking a variety of courses.
In September of 1916 Deters joined the University of Buffalo as the first registrar of the College of Arts and Sciences. By 1918 she was Registrar for the entire University. Holding this position for forty years, Emma Deters always remained dedicated to UB. Even after her mandatory retirement on June 30, 1960, she remained involved in University life as a special advisor to the Graduate School for the next five years.
Deters was a member and chairman of various associations, committees, and sororities. Very involved in the American Association of Collegiate Registrars and Admissions Officers, Deters served as its Second Vice-President (1929-1930), Treasurer (1934-1937), First Vice-President (1951-1952), and President (1952-1953). She also was the book review editor for College and University from 1942 to 1943.
Often recognized for her devotion to the community, Deters was received quite a few awards.
She was named "Niagara Frontiersman" by the Buffalo Junior Chamber of Commerce for her dedication to the University's students


On June 10, 1960 she received the Alumni Association Distinguished Service Award.


On the College of Arts and Sciences golden anniversary she was awarded a Certificate for Distinguished Professional Accomplishments and Faithful Service.


On October 5, 1971 she was again honored for her service by receiving the 125th Anniversary Awards for University and Community Service.
Affiliation(s):
University Registrar
Record Group(s):
26
---
Biographical File Contains: