G. Lester Anderson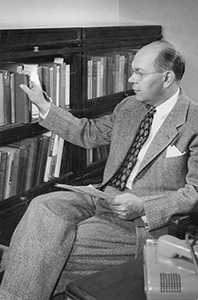 Born:
1911
Death:
1998
G. Lester Anderson's career in the field of education spanned more than 40 years. Born on February 4, 1911, Anderson attended the Nebraska State Teachers College where he graduated A.B. Magna Cum Laude with a degree in English in 1932. Between 1932 and 1938, he held positions as high school principal and superintendent at various schools in Nebraska. Anderson received his MA from Colorado State College of Education in 1937 and his Ph.D. from the University of Minnesota in 1941. He stayed on at the University of Minnesota and achieved the rank of Professor of Education in 1948.
From 1951-1968, G. Lester Anderson served in a number of high ranking administrative roles at the University at Buffalo including Dean of Administration, Vice Chancellor for Educational Affairs, Acting Chairman of the Department of Higher Education and Acting Chairman of the Office of Institutional Research. Throughout his tenure at the University at Buffalo, he held the rank of Professor and in 1966 was named Distinguished Service Professor of Higher Education.
G. Lester Anderson left the University at Buffalo for Pennsylvania State University in 1969 where he would stay until his retirement in 1976. Upon retirement, he was named Emeritus Professor at both the University at Buffalo and Pennsylvania State University.
Affiliation(s):
Educational Affairs
Record Group(s):
17
---
Biographical File Contains: