Robert Creeley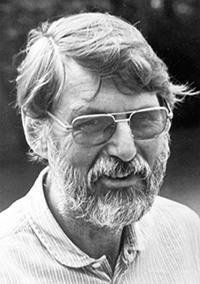 Death:
2005
Robert Creeley was the David Gray Professor of Poetry and Letters (1978-1989) and the Samuel P. Capen Professor of Poetics and the Humanities (1989-2003) at the University at Buffalo. He attended Harvard University (1943-1946), and later received his B.A. from Black Mountain College (1954) and his M.A. from the University of New Mexico (1960). Before joining the Department of English faculty in 1966, Creeley held a number of lecturer and visiting professorships. He was a highly regarded teacher and was named SUNY Distinguished Professor in 1989. Creeley founded UB's Poetics Program and Wednesdays at 4 PLUS literary series. He wrote over 60 books of poetry and criticism. Creeley left UB in 2003 and became a Distinguished Professor at Brown University.
Sources:

Robert Creeley curriculum vitae, March 1988.
Donovan, Patricia. "Former UB faculty member Robert Creeley dies." Reporter, March 31, 2005.
Affiliation(s):
English
Record Group(s):
16
---
Biographical File Contains: