Francis E. Fronczak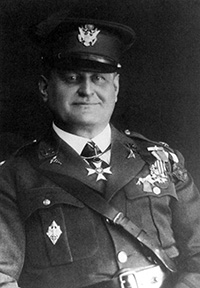 Born:
1874
Death:
1955
Francis E. Fronczak was born to Polish immigrants in Buffalo on September 20, 1874, and attended Canisius High School.
In 1897, Fronczak received his medical degree and in 1900, received a law degree from UB. From 1899 to 1910, Dr. Fronzcak was health commissioner of the Town of Cheektowaga. He began his long association with the Buffalo Health Department in 1907 when he was named assistant commissioner. In 1910, he was appointed commissioner, a post he held until 1946.
He gained an international reputation in 1914 as president of the Central Relief Committee, organized by the Poles of American to aid the people of war-torn Poland. When the United States entered the First World War, he was commissioned a major in the Medical Corps and sent overseas. While abroad, he was appointed a member of the Polish National Committee in Paris to represent the Poles of America. The committee represented Poland in the Council of the Allies. Dr. Fronzcak was also designated director of the department of physical, moral, and material welfare of the Polish Army. He was in charge of Polish war prisoners, refugees, expatriates, and orphans in France, Siberia, Morocco, and England. His jurisdiction was expanded until it included Italy, Northern Russia, and Algeria as well.
Although a medical officer, he took part in battles on the Marne and in Champagne and Lorraine on the Western front, and on the Czechoslovakian, Ukranian, and Eastern fronts as well. As director of the Polish National Committee's Department of Public Welfare from May 1918, to February 1919, Dr. Fronczak was one of the three members of the Council of War of the Polish Forces in France. Promoted to lieutenant colonel in the Medical Corps in 1919, he was appointed a commissioner and medical advisor on the first American Red Cross Commission to Poland. In this capacity, he developed a plan to alleviate the dire sanitary conditions which the war had created throughout the country. Several Polish cities later made him an honorary citizen.
In 1934, he was commissioned as a colonel in the U.S. Army Reserve and after World War II, Dr. Fronczak was again active in post-war rehabilitation. He was a coordinator of the Polish Mission of the United Nations Relief and Rehabilitation Administration. His service in wartime brought him high honors, including the Purple Heart of the United States, knighthood in the French Legion of Honor, the French Croix de Guerre and Medaille Militaire, the Cross of Valor of Poland, the Gold Cross of Merit, Haller's Swords, and the rank of commander in the Order of Polonia Restituta.
Dr. Fronzcak wrote more than 400 papers dealing with public health that appeared in English, German, French, Spanish, Italian, Russian, and Polish.
Affiliation(s):
Alumnus
Record Group(s):
30
---