Ruth Bryant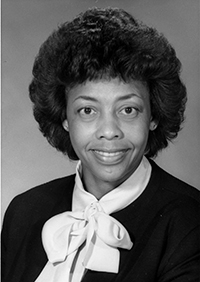 The Assistant Dean for the School of Architecture and Planning at the University at Buffalo since 1982, Ruth Bryant was the first African-American to become Chair of the Professional Staff Senate (1988). She has also served on the Task Force on Women at UB and the Faculty Senate Committee on Governance.
Recognized often for her outstanding community and University services, she has been recognized for her efforts by Black Achievers, Everywoman Opportunity Center, National Conference, the NAACP, the University at Buffalo, and the YWCA. In 1990 Bryant was the recipient of Professional Staff Senate Outstanding Service Award. In 1996 she received the YWCA of Western New York Outstanding Achievement Award.
Through her community involvement, Bryant has help to build a stronger Buffalo community. She served as Secretary of the United Way of New York State from 1996 to 2000. She is a member of the Board of Directions of the Community Foundation for Greater Buffalo, has served as its chair from January 2001 until December 2002. She is on the board of the Rental Assistance Corporation and Housing Development Corporation, Local Initiatives Support Corporation, HELP, and the Reverend Dr. Bennett W. Smith Family Life Center. She is a community advisor for the Junior League of Buffalo. Currently Bryant serves on the Board of Trustees of Medaille College.
Bryant has also volunteered her services to many organizations that support women advancements. She is a founding member of the Buffalo Chapter of the National Coalition of Black Women; a member of the Women's TAP Fund, a political action committee that supports local women running for elective office; and a part of a Pilot Mentoring Program in 2003, sponsored by the TALENT BANK Committee of the Erie County Commission on the Status of Women, which paired experienced board members with women who are just beginning to serve on boards.
Ruth Bryant has also been recognized as an Uncrowned Queen.
Affiliation(s):
Architecture and Planning
Record Group(s):
3
---
Biographical File Contains: