Moti Lal Rustgi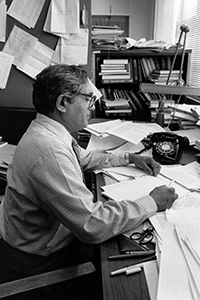 Born:
1929
Death:
1992
Moti Lal Rustgi, Professor in Physics and expert on photodisintegration theory, was born in Delhi, India, on September 29, 1929. He graduated with honors from Delhi University with a Bachelor of Science at the age of 20, an achievement followed two years later with the awarding of his master's degree in physics, also from Delhi University. Rustgi pursued doctoral studies at Stanford University and later at Louisiana State University, where he earned his doctorate in theoretical nuclear physics.
Moti Lal Rustgi began his career at the University at Buffalo in 1966 as an Associate Professor in the Department of Physics. He was made Full Professor in 1968, a position he would hold for twenty-four years. At University at Buffalo, Rustgi taught courses such as Freshman Physics, Electromagnetic Fields, Quantum Mechanics, Nuclear Theory, Statistical Mechanics, and Classical Electrodynamics. Twice Rustgi held visiting appointments, at the State University of New York at Stony Brook and the Oak Ridge National Laboratory, in 1973 and 1980, respectively.
Moti Lal Rustgi was an active participant in the Department of Physics, serving on numerous committees and directing graduate studies for the department. Rustgi was also instrumental in founding the concentration in medical physics still available to master's students in the department.
He passed away on November 16, 1992 at the age of 63.
Affiliation(s):
Physics
Record Group(s):
20
---
Biographical File Contains: