Peter M. Boyd-Bowman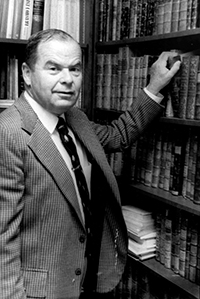 Born:
1924
Death:
2010
Peter Boyd-Bowman was born in Matsue, Japan on October 29, 1924. Educated in private schools, he entered the University of Toronto in 1940 at the age of 15. Boyd-Bowman received his B.A. in Modern Languages in 1944 and served as an interpreter for the Canadian armed forces from 1944-1946. He then returned to the University of Toronto, where he earned his M.A. in Romance Linguistics in 1947. In 1950, Boyd-Bowman received his Ph.D. in Romance Linguistics from Harvard University.
Boyd-Bowman joined the faculty of the University at Buffalo in 1965, having spent the last ten years as professor and then chair of the Foreign Language Department at Kalamazoo College in Michigan. At UB, he was professor of Hispanic Linguistics and director of the Center for Critical Languages. Boyd-Bowman co-founded the Association of Self-Instructional Language Programs which allows students at many colleges and universities to guide their own education in less-commonly taught languages.
Sources:


Peter Boyd-Bowman curriculum vitae, 1993.
Peter Boyd-Bowman obituary, UB Repoter, July 22, 2010.
Affiliation(s):
Modern Languages and Literature
Record Group(s):
16
---
Biographical File Contains: