Barbara Tedlock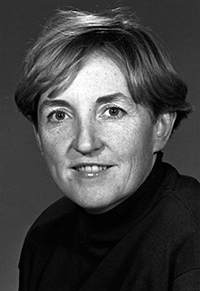 Barbara Tedlock is a UB Distinguished Professor of Anthropology. She has done ethnography in Brazil, Nigeria, Guatemala, and with Zuni Indians in New Mexico. Along with husband, McNulty Chair and Professor of English Dennis Tedlock, she served as co-editor of American Anthropologist, the journal of the American Anthropological Association.
She received her Bachelor's in Rhetoric from the University of California, Berkeley and a Certificate in Painting from the Art Students League of New York. She earned a master's degree in Anthropology and Ethnomusicology from Wesleyan University and her doctorate in Anthropology from SUNY at Albany in 1978. She joined the faculty of UB in 1987.
Tedlock's interests center on the American Southwest and Mesoamerica and include subjects such as shamanism, Zuni art and aesthetics, the cultural organization of time and space, ethnomedicine and cognitive, psychological and symbolic anthropology. Additionally, Tedlock was initiated as a Shaman by the Maya Quiche of Guatemala.
Her research has led to the publication of several books:
Time and the Highland Mayan (1982)
Dreaming: Anthropological and Psychological Interpretations (1987)
The Beautiful and the Dangerous: Zuni Indian Encounters (1992)
Teachings from the American Earth (co-edited with Dennis Tedlock) (1992)
and the forthcoming The Woman in the Shaman's Body (2005)
In 1997, Tedlock, along with her husband, won the American Anthropological Association President's Award for distinctive leadership at the American Anthropologist. Recently, she contributed to the Kansas Conference on Imagination and Place with her paper, "The Poetics of Landscape in the Spirituality of Dreaming," published in 2002. Tedlock was also made part of the SUNY-wide Chancellor's Honors Faculty from the Western New York region in research and scholarship in the Humanities, Arts and Social Sciences in 2002.
Affiliation(s):
Anthropology
Record Group(s):
22
---
Biographical File Contains: