Henry Lee Smith Jr.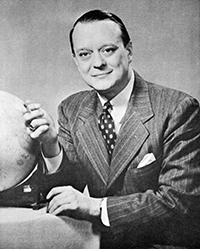 Born:
1913
Death:
1972
Noted linguist Henry Lee Smith, Jr. was born in 1913 in Morristown, New Jersey. After graduating from Princeton University, he lectured and instructed in English at Barnard College (1938-1940) and Brown University (1940-1942). In 1940, Smith launched the popular radio program "Where Are You From?" on which he would accurately guess where members of the audience were from after hearing them say certain words or phrases.
Henry Lee Smith, Jr. served as a major in the U.S. Army, officer in charge, Language Section, Information and Education Division, ASF (1942-1945). There, he and his team created foreign language instructional and reference materials for U.S. troops. The booklets they produced, which taught French, German, Dutch and other European languages phonetically, were small enough to fit in a soldier's pocket. Later, Smith was placed in charge of orientation and teaching English to selected German prisoners at Ft. Getty, Rhode Island, and Ft. Eustis, Virginia (1945-1946).
After the war, Smith served as assistant chief of the Division of Training Services (1946-1947) and assistant director of Foreign Service Institute (1946-1956) for the U.S. Department of State. He was the founder (1946) and first director of the School of Language and Linguistics, FSI (later the School of Language Studies), under U.S. Department of State. Smith was professor of linguistics (1951-1956) and Dean of the School of Languages at FSI (1955-1956), under the U.S. Department of State.
In 1956, Henry Lee Smith, Jr. became chair of the Department of Anthropology and Linguistics at the State University of New York at Buffalo. He would hold this position until 1965 when he became acting director, Program in Linguistics, at the University of Buffalo. In 1968, Smith stepped down from his administrative roles but stayed at the University at Buffalo as professor of linguistics and English, Department of Linguistics until 1970.
Affiliation(s):
Linguistics, English, Anthropology
Record Group(s):
22, 16, 22
---
Biographical File Contains: