Barbara M. Sims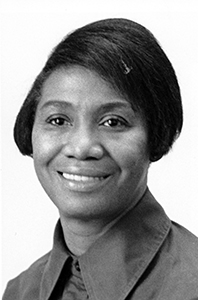 Barbara Sims' career was full of firsts. In 1952, she scored the highest score on the Buffalo's public school teacher examination. She was the first African American woman to receive a law degree at the University at Buffalo. She then went on to practice law with her husband at their firm Sims and Sims. She was the first black woman to be appointed as an Assistant District Attorney and later Senior District Attorney in Erie County.
During this time Sims was also an active member of the Women's Lawyers Association. She was elected into every office and served as President, Vice-President, Secretary, and Treasurer. She was also National Vice-President to the National Association of Black Women Attorneys. Coinciding with her association work Sims became a Hearing Officer in the Parking Violations Bureau of the City of Buffalo. While a Hearing Officer Sims was chosen to teach at UB's Law School, a position which she accepted.
In 1970, she also accepted the appointment as an Assistant to the President of UB for Minority and Women's Affairs. She also served as the Director of the Office of Equal Opportunity and UB's Equal Employment Officer. In 1970, Sims was nominated to be the chairmanship of the University of Buffalo's Faculty-Staff Caucus. Sims declined as her previous commitments to the University did not afford her enough time to accept.
She later left UB and went to work in the Law Offices of Robinson, Sims, Gibson and Green. While employed there she was chosen to run for Associate Judge of the City Court of Buffalo.
During her career, Sims was also local counsel to the National Association for the Advancement of Colored People (NAACP) for which she represented clients in various civil rights lawsuits.
Sims has received over fifty awards for her devotion and work within the community and as an attorney.
She is currently counsel to the Buffalo Criterion weekly newspaper.
Barbara Sims has also been recognized as an Uncrowned Queen.
Affiliation(s):
Law, Office of Equal Opportunity
Record Group(s):
21
---
Biographical File Contains: