Oscar A. Silverman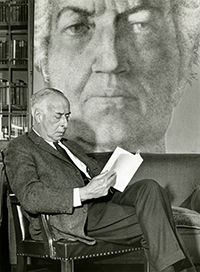 ---
---
Born:
1903
Death:
1977
Oscar Ansell Silverman was associated with the University at Buffalo in various roles from 1926 to his retirement in 1972. He began as an instructor in English, became a full professor in 1943, and between 1945 and 1946 served as a professor of English at the Army's American University in Biarritz, France. He returned to Buffalo and chaired the Department of English from 1956-1963, during which he served as a visiting professor at Harvard under a grant from the Carnegie Corporation from 1953 to 1954. He edited Epiphanies from the manuscripts of James Joyce held at the University at Buffalo, published in 1956.
In 1960 he was named director of Libraries and served until 1968. Silverman played a key role in the acquisition of the important James Joyce and Robert Graves material. During his time as director of Libraries, the collection grew from 375,000 volumes in 1960 to one million in 1968.
A native of Uniontown, PA, Silverman received his bachelor's (1925) and Ph.D. (1941) from Yale University and a master's from the University of Wisconsin (1926). He edited speeches and papers on education given by the late Samuel P. Capen, former University Chancellor, published in 1953 as Management of Universities, and was an early proponent of a general education program for university students.<br>
Active and well-known in the community, he expanded the Great Books Program of the Buffalo Public Library. During the 1940s, he conducted a weekly book review program on a local radio station, and later, he was host of a television current affairs program, WBEN-TV's "What's News." He was a member of several of Buffalo's musical and art societies and is credited with facilitating an anonymous donation to establish the Budapest Quartet in residence at UB during the 1960s.
The UB College of Arts and Sciences honored Silverman in 1964 by for "distinguished... accomplishment in the humanities." He retired from UB in 1973 and a year later was named professor emeritus. He died in 1977.
Affiliation(s):
Libraries, English
Record Group(s):
13, 16
---
Biographical File Contains: