Ann London Scott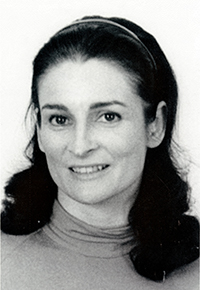 Born:
1933
Death:
1975
University Archives collection, 16/4F/799, MS 60
Schlesinger Library collection, MC 496, National Organization for Women
Ann London Scott was an Assistant Professor in UB's Department of English for only seven years, but her contribution to women's rights at UB and nationwide belies her short tenure here.
Born in 1933, Scott received both her bachelor's degree and her doctorate from the University of Washington. In the early 1960s, she taught at her alma mater before joining UB in 1965.
Scott joined the National Organization for Women (NOW) upon its inception in 1967, and led the formation of a Buffalo chapter (see University Archives collection, MS 60 for the papers of the Buffalo NOW chapter).
courtesy of the Schlesinger Library
Later, in 1971, Scott was elected to the first of her three terms as legislative vice president of NOW and worked to ratify the Equal Rights Amendment to the Constitution. She served on NOW's Board of Directors from 1970 to 1975.
While at UB Scott wrote the revolutionary article, "The Half-Eaten Apple," which was issued as a supplement to the May 14, 1970 edition of the University newspaper, the Reporter. "The Half-Eaten Apple" was, as the New York Times described it, "one of the first attempts to examine alleged discrimination in the academic world." (February 19, 1975). The article became the inspiration for the UB Taskforce on Women report in 1996. Three years after she wrote "The Half-Eaten Apple," Scott left the University to pursue full-time work as a lobbyist for NOW.
In addition to her work as an instructor and a lobbyist, Scott was active in several professional and progressive organizations. For many years, she was the Associate Executive Director of the American Association for Higher Education. She also served on the Board of Directors for Common Cause, and as the Associate Director of the American Association for Higher Education. She was a member of the Leadership Conference on Civil Rights and worked with the Modern Language Association on many women's rights projects.
On February 27, 1975, Scott passed away from breast cancer. NOW created the Ann London Scott Award for Legislative Excellence, which is awarded annually to a worthy female legislator, as a fitting memorial to Scott and her work with NOW.
Affiliation(s):
English
Record Group(s):
16
---
Biographical File Contains: