Gloria L. Roblin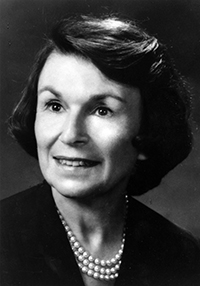 Born:
1925
Death:
2001
"I was one of the first people to ask why there isn't a male birth control pill"
Roblin as quoted in the Niagara Falls Gazette (February 26, 1973)
Gloria L. Roblin was the first non-medical doctor to become a clinical full Professor in the School of Medicine and Biomedical Sciences. While at UB she was a pioneer in the medical study of human sexuality and clinical hypnosis as well as developing the first courses in these areas.
She received her bachelors degree in Psychology from Barnard College in 1945 and her masters degree from Columbia University in 1947. Upon marrying, Roblin moved to Buffalo and put her career on hold until her children had completed elementary school. She later attended UB where she earned her Ph.D. in Psychology in 1963.
She began teaching in UB's School of Medicine and Biomedical Sciences in 1963 as a clinical instructor. Over the next 12 years Robin ascended the ranks to become the first non-medical doctor full Clinical Professor at UB.
A recipient of a General Research Support Grant from the United States Public Health Service, Roblin contributed greatly to the fields of Psychology and Human Sexuality through both oral and written work. Her speeches were known for drawing standing-room-only crowds. She published a number of articles in peer-reviewed journals.
Roblin was a member of number of community-orientated as well as academic and professional associations including:
American Association of Sex Educators, Counselors, Therapists
American Psychological Association
American Society of Clinical Hypnosis
Mental Health Advisory Board of Erie County
New York State Psychological Association
Ontario Society of Clinical Hypnosis
Planned Parenthood
Psychological Association of WNY
Sex Information and Education Council of U.S.
Sigma Xi, the Scientific Research Society
Society for Scientific Study of Sex, of which she was both a fellow and board member
United Way
Affiliation(s):
Medicine and Biomedical Sciences, Psychology
Record Group(s):
19
---
Biographical File Contains: