Peter F. Regan III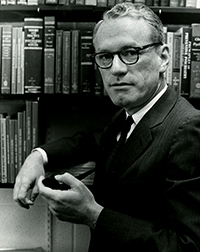 Born:
1924
Death:
2020
Born in New York City, Dr. Peter F. Regan III held many positions at the University at Buffalo, including serving as acting president of the University from 1969-1970. Regan's tenure as president was marked by significant campus unrest during that time.
He attended Fordham University, the University of Idaho, Stanford, the University of Oklahoma, and Cornell, where he earned his medical degree in 1949. He held many faculty positions prior to the University at Buffalo including at Cornell, and the University of Florida College of Medicine. Then UB President Clifford Furnas invited Regan to UB in 1964 to assist in establishing the School of Health Sciences. In 1966 he became Executive Vice President of UB. After his tenure as acting president, Regan returned to research, and held several positions and consultantships throughout the country, before returning to Buffalo.
Dr. Peter F. Regan III died in Amherst, New York on April 5, 2020.
Affiliation(s):
Health Affairs, SUNY, President/Chancellor
Record Group(s):
40, 1, 4
---
Biographical File Contains: