Milton Plesur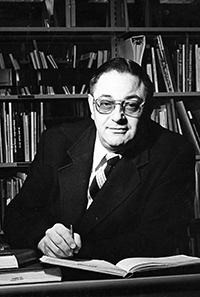 Born:
1927
Death:
1987
Milton Plesur was born in Buffalo on April 15, 1927. He received his Bachelor of Science degree from Buffalo State College (1947), his Master's degree from the University of Buffalo (1949) and his Ph.D. from the University of Rochester (1954). Plesur started his teaching career while pursuing his Master's degree and Ph.D. He taught in Buffalo Public Schools from 1949 to 1954 and Niagara Falls, N.Y. Public Schools from 1953 to 1954.
Milton Plesur began teaching at the University of Buffalo in 1949, when he became a graduate assistant in History. From 1950 to 1952, Plesur was a teaching fellow in History at the University of Rochester. He returned to the University at Buffalo in 1955, where for the next 32 years he held the positions of lecturer, assistant professor, associate professor, and professor. Plesur taught in the fields of history, education, history of education with a focus in social studies education, and general studies. Plesur retired from the University at Buffalo in 1987.
Milton Plesur was an extremely popular professor among students. The quality of his teaching and his commitment to students is honored annully through the Milton Plesur Excellence in Teaching Award. Given out by the undergraduate Student Association, recipients of the award are nominated by their students. ("Three receive Plesur Awards for teaching." UB Now, July 29, 2019)
Milton Plesur's research focused on mid-19th century and mid-20th century America, encompassing political affairs, Judaism in America, American Imperialism and foreign affairs, and popular culture, especially in film.


Affiliation(s):
History, Alumnus
Record Group(s):
22, 30
---
Biographical File Contains: