John Lord O'Brian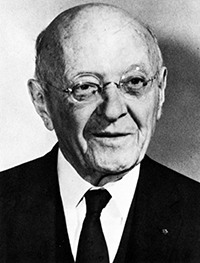 Born:
1874
Death:
1973
John Lord O'Brian was a noted constitutional lawyer and government official. Born in Buffalo in 1874, he received the A.B. degree from Harvard University in 1896 and the L.L.B. degree from the University of Buffalo Law School in 1898.
O'Brian played a large role in the history of the University at Buffalo. He became a member of the University Council from 1903-1929. Along with fellow Council member Edward Michael, he helped persuade Chancellor Charles P. Norton to locate the UB campus on Main Street rather than on Elmwood Avenue. O'Brian also served as the chair of the committee that brought Samuel P. Capen to the University -- the beginning of a new era for the school.
O'Brian served the Law School in many capacities. From 1907 through 1921, O'Brian was a volunteer instructor in Insurance Law and was the principal speaker at the October 21, 1949, dedication of 77 West Eagle Street, a former home of the UB Law School. On May 6, 1963, O'Brian received the Law School's first Distinguished Alumnus Award for Public Service.
Over his long career, O'Brian was appointed for various government offices by six Presidents of the United States from Theodore Roosevelt to Harry S. Truman. In February 1909, O'Brian was appointed by President Theodore Roosevelt to serve as United States Attorney for the Western District of New York. He continued to serve in this position through the administrations of President Taft and President Wilson. During World War I, O'Brian served as Head of the War Emergency Division in the United States Dept. of Justice where he was responsible for prosecuting cases of espionage and sabotage. At the end of World War I, O'Brian returned to Buffalo to practice law. In 1929, President Hoover appointed O'Brian to serve as Assistant Attorney General of the Anti-Trust Division at the United States Department of Justice where he was responsible for arguing more than 15 cases before the United States Supreme Court. He was retained by the Tennessee Valley Authority in 1935, eventually winning the case that challenged the creation of the Authority. In 1941, President Franklin Roosevelt appointed O'Brian to serve as General Counsel of the War Production Board.
From 1945 until his death, at age 98, O'Brian practiced law in Washington, D.C. His legal work often brought him to important cases involving labor and civil service reform as well as disputed cases before the United Nations.
In 1940, O'Brian was awarded the University's prestigious Chancellor's Award. The home of the UB Law School, O'Brian Hall, was named in his honor in 1973 when it first opened on the Amherst campus.
Affiliation(s):
University Council, Alumnus
Record Group(s):
2, 30
---
Biographical File Contains: