Muriel A. Moore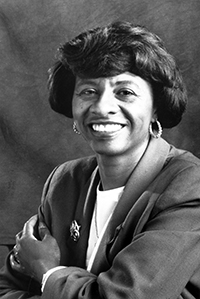 After leaving UB name changed to Howard.
Muriel A. Moore is a woman with enough drive, determination and will to be a leader who continuously influences the academic world. Growing up as the oldest girl among six siblings, she began her life in a leadership role. From her childhood home in Wilson, North Carolina, Moore took her hard work and determination to Buffalo where she made her mark.
Moore began her post secondary education at Richmond College and the City University of New York. She later came to UB and earned a master's degree in education in 1973 and a Ph.D. in Educational Organization, Administration and Policy in 1985.
In 1974, Moore began working at UB as Assistant Director of the UB Learning Center. She became Director in 1981. In 1984 she was appointed Director of UB's Educational Opportunity Center and soon later began teaching as an Assistant Professor (adjunct) of Educational Organization, Administration and Policy. In 1987 Moore was named UB's Associate Vice-Provost for Special Programs. In 1990 and 1991, Moore was appointed an Assistant, and later Deputy, to the President of the University.
Moore became the first woman to be appointed to a vice-president post when she became UB's Vice President for Public Service and Urban Affairs in 1992. She remained in this appointment until 1996 when she left the University to become the Interim President of Buffalo State College. On April 24, 1996, shortly after her appointment, Moore (now known at Muriel A. Howard) became the President at Buffalo State College, making her the first female African-American President of all of the 15 SUNY schools.
Although this position monopolizes most of her time, Moore is still actively involved in her community. She is an active member of Project FLIGHT (Family Literacy for Intergenerational Growth and Home Teaching) and the United Way Campaign Cabinet of the Buffalo Division.
She was the recipient of the:
Black Achiever in Industry Award
The Black Educators Association of Western New York's Educator of the Year Award (1991)
Project Women in Networking Award of Excellence (1993)
The SUNY Chancellor's Award for Excellence in Professional Service (1990)
Muriel Moore Howard has also been recognized as an Uncrowned Queen.
Affiliation(s):
Public Services and Urban Affairs, Mechanical and Aerospace Engineering
Record Group(s):
48
---
Biographical File Contains: