Brenda L. Moore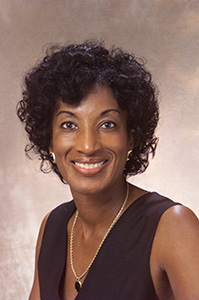 Brenda Lee Moore has been recognized many times for her work as a sociologist researching in the fields of race and ethnic relations, military sociology, gender, and social stratification.
She has received the American Society for Engineering Education Visiting Scholar Award to the Defense Equal Opportunity Management Institute every summer since 1997. In 1994 Moore was appointed by then President of the United States, Bill Clinton, to be a member of the American Battle Monuments Commission (ABMC). The ABMC is responsible for commemorating the U.S. Armed Forces in places where they have served since April 6, 1917, by designing, constructing, operating and maintaining permanent American military burial grounds on foreign soil.
Moore earned her B.A. in Sociology from the State University of New York at Stony Brook in 1980 after serving as an Equal Opportunity Specialist in the U.S. Department of the Army from 1973 to 1979. At the University of Chicago, Moore earned her M.A. and Ph.D. in Sociology in 1984 and 1987 respectively. Her dissertation was entitled "Effects of the All-Volunteer Force on Civilian Status Attainment." After a year as a Visiting Assistant Professor at Indiana University Northwest, Moore joined UB as an Assistant Professor in the Department of Sociology in 1988. She was promoted to the position of Associate Professor in 1996.
Moore is the author of:
To Serve My Country, To Serve My Race: The Story of the Only African American WACs Stationed Overseas During World War II (1996)
Serving Our Country: Japanese American Women in the Military During World War II (2003) for which she obtained a Ford Foundation Faculty Research Grant.
She has also written many journal articles and book chapters on her research interests, in addition to serving on the editorial boards of both Armed Forces and Society and the Second World War Series.
Moore is professionally active both nationally and at UB. She is a Presidential appointee to the the Department of Defense Advisory Committee on Women in the Services in addition to the American Battle Monuments Commissions. Moore has also testified for the Department of Defense and Congress on issues involving race and the military. She is a member of several professional organizations, including the Women's Army Corps Veterans Association and American Sociological Association. At UB, Moore has served on the University Equal Opportunity and Affirmative Action Committee and the Faculty Senate Executive Committee; she has also chaired the Faculty Senate Committee on Affirmative Action. Currently, she is a member of the Intercollegiate Athletic Board. Moore's research on women's contributions to the United States Armed Services earned her a Proclamation from the 104th Congress, 30th Congressional District, Buffalo, on March 14, 1996.
Brenda Moore has also been recognized as an Uncrowned Queen.
Affiliation(s):
Sociology
Record Group(s):
22
---
Biographical File Contains: