Helen Huguenor Lyman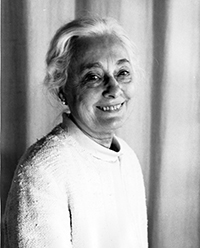 Born:
1910
Death:
2002
University Archives collection: 45/F/1000
Helen Hugenor Lyman, a noted librarian, teacher, scholar, and author, was renowned for her focus on adult services to the illiterate, the homeless, and the incarcerated. Her name was even said to be synonymous with adult literacy and public services to adults.
Throughout her career, she specialized in adult services in her library work at the Chicago Public Library, the Wisconsin State Library, and the United States Office of Education in Washington, DC, and her work as an instructor for both the University of Wisconsin-Madison and UB.
Lyman first came to UB as an undergraduate, earning her B.A. in 1932. After graduation, she worked in the Buffalo Public Library while earning a B.S. in library science from UB which she received in 1940. Lyman's interest in library services for adults led to a position as the Director of the Adult Education Survey of American Library Association, a study published in 1954. Later, Lyman attended the University of Chicago's Graduate Library School from 1955 to 1956 while working in adult services in the Chicago Public Library.
Lyman joined the faculty of the University of Wisconsin-Madison Library School in 1966, where she was active in the Wisconsin Women Library Workers. She continued to write on her research interest, leading to the publications of her monographs:
Library Materials in Service to the Adult New Reader (1973)
Reading and the Adult New Reader (1976)
Literacy and the Nation's Libraries (1977)
Upon her retirement from the University of Wisconsin, Madison in 1977, Lyman joined the faculty of UB's Library and Information Studies Program as an adjunct professor. Until her second retirement in 1998, Lyman taught a yearly course on Adult Resources and Services.
Lyman's life of service to patrons and students alike was well noted. In 1987, Lyman received the UB Distinguished Alumni Award. The American Library Association awarded Lyman both the Joseph W. Lippincott Award for Distinguished Librarianship and the Margaret Monroe Library Adult Services Award.
Helen Lyman did a series of radio interviews for Radio 6NR (Perth) during 1979 while she was traveling in Australia. During these interviews she talked about her trip to Australia as a guest of the Library Association of Australia, but also about her work and adult literacy more broadly.
Affiliation(s):
Library and Information Studies
Record Group(s):
45
---
Biographical File Contains: