Jeanette Marie Ludwig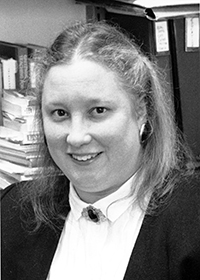 Jeanette Ludwig was born on September 29, 1949 in Des Moines, Iowa. Interested in both the history and structure of the French language as well as the comparative study of religious prayer and meditation, Ludwig teaches in the areas of Romance Languages and Comparative Religion. After receiving both an M.A. and Ph.D. in Romance Linguistics from the University of Michigan, Ludwig joined the faculty of University at Buffalo in 1977 as an Assistant Professor of French. Later she went on to earn an M.A. in Theology from Christ the King Seminary in Buffalo.
Over the years Ludwig has been very involved with the University's community and administration. She served as Associate Vice Provost for Undergraduate Education in the early 1990s and been a contributing member of various University-wide committees, including the Faculty Senate, the UB Diversity Committee, and the College of Arts and Sciences Curriculum Committee.
In addition, Ludwig has chaired the General Assembly of the Undergraduate College, Faculty Senate's Teaching Quality Committee, the Advisory Council of the Office of Teaching Effectiveness, and the Assessment Task Group. She is the advisor to the University's chapter of Phi Sigma Iota, the foreign language honor society.
Ludwig has received a number of awards and honors during her time at UB:
1980 -- Awarded the Chancellor's Award for Excellence in Teaching
1990 -- Elected an honorary member of the Golden Key Honor Society
1992 -- Awarded the Didaskalos Award of the Campus Ministries Association for most valuable faculty contribution to student life
Ludwig died July 29, 2018 of metastatic colon cancer. She was 68.
Affiliation(s):
Romance Languages and Literature
Record Group(s):
16
---
Biographical File Contains: