Virginia A. Leary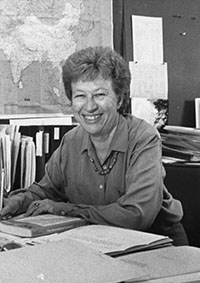 Virginia A. Leary retired from UB in 1995 after an illustrious career dedicated to international human rights law through teaching, writing, and activism.
Born in 1926, Leary obtained her Bachelor of the Arts in 1947 from the University of Utah. In 1950 she graduated from the University of Chicago Law School and proceeded to work in a private law firm. Her interest in human rights eventually led her to leave her practice and depart for Geneva, Switzerland, where she worked for the Intercultural Cooperation Association, an international women's organization.
Leary's growing interest in human rights along with a sustained fascination with the law compelled her back to academia. In 1971 she received the diploma of the Hague Academy of International Law.
In 1976 she came to UB as a professor in the School of Law. The University of Geneva's Graduate Institute of International Studies granted her a doctoral degree in 1980.
Leary co-founded the UB Human Rights Center with the help of SUNY Distinguished Service Professor Claude Welch of the Political Science Department. In addition to publications and professional honors, Leary has been extensively involved in human rights activism. Leary held membership on the board of directors of Human Rights Watch Asia and is a founding member of the International Council for Human Rights Policy. In addition, Leary worked with Amnesty International, the Office of the United Nations High Commissioner for Human Rights, the World Health Organization, and the International Commission of Jurists.
In 1993, Leary was granted the title of SUNY Distinguished Service Professor. After her retirement from UB in 1995, she served as a Professor of International and Comparative Law at University of California, Hastings College of the Law in San Francisco for six years. Upon her retirement from academia, Leary moved to Geneva, Switzerland, where she currently resides.
Leary's many publications include:
Ethnic Conflict and Violence in Sri Lanka (1981)
International Labour Conventions and International Law (1982)
Challenging Power in Civil Society at the Doors of the WTO (1999)
Leary currently serves as the Project Director for "International Organizations and the Social Aspects of Trade Liberalization" for the Program for the Study of International Organization(s). She also directs a project at the University of Geneva's Graduate Institute of International Studies on the topic of trade liberalization.
In fall 1983, a teach-in on the United States invasion of Grenada was held at UB. Modeled on the teach-ins of the Vietnam, the teach-in was meant to be, as political science professor Terry Nardin described it, "a cross between a protest and a debate."
Three professors, united in their criticism of US foreign policy, spoke at the event: Leary, Nardin, and Jerome Slater, also of the political science department.
The panel agreed that by invading Grenada the US had "undermined any former moral credibility it used as leverage to criticize other nations for breaking international law, without being hypocritical" (Spectrum, November 4, 1983).
Affiliation(s):
Law
Record Group(s):
21
---
Biographical File Contains: