Suzanne G. Laychock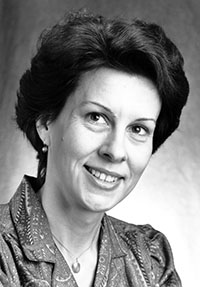 Suzanne Laychock, the Senior Associate Dean for Research and Biomedical Education is also a full Professor and Associate Department Chair of the Department of Pharmacology and Toxicology in the School of Medicine.
Laychock earned a B.S. in Biology from Brooklyn College in 1971, an M.A. in Biology from the City University of New York in 1973, and three years later earned her Ph.D. in Pharmacology from the Medical College of Virginia. Her research interests include gene regulation, insulin secretion, metabolism, and signal transduction.
Currently, Laychock serves as Project Director for Endocrine Pharmacology Laboratory and as a member of the President's Review Board. She is the author of numerous journal articles and the recipient of several grants. She has chaired the Women in Pharmacology Committee of the American Society for Pharmacology and Experimental Therapeutics. In addition, she is the Associate Editor of the research journal LIPIDS.
In 2001, Provost Capaldi appointed Laychock the Co-Director of the Institute for Research and Education on Women and Gender (IREWG), a position she left one year later to assume the role of Senior Associate Dean for Research and Biomedical Education in the School of Medicine and Biomedical Sciences.
Affiliation(s):
Pharmacology and Toxicology, Medicine and Biomedical Sciences
Record Group(s):
19
---
Biographical File Contains: