Bertha S. Laury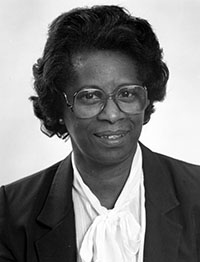 Born:
1934
Death:
2012
Bertha Skinner Laury served at UB from 1972 to 1996, and continues to work in the Buffalo community as a mentor and community activist.
Laury earned her undergraduate degree from Paine College in Augusta, Georgia and a master's degree in Social Work from Atlanta University. In 1966, Laury pioneered an infant day care center for Buffalo-area unwed mothers. In 1972, she joined UB as a Clinical Associate Professor and the Director of Field Education, placing hundreds of students in Social Work internships. In 1993, she was appointed to the position of Associate Dean of Community Relations.
Her research and community interests include mental retardation, developmental disabilities, and adolescent pregnancy. Laury worked to develop a successful service to decrease teen pregnancy in Buffalo and Erie County, and served on the Governor's Task Force on Adolescent Pregnancy.
Among her honors and awards, Laury won the Outstanding Achievement Award from the Western New York YWCA and in 1994 was honored by the Women Helping Women/Erie County National Organization of Women for her work in the prevention of teenage pregnancy. In addition, the Buffalo News bestowed upon her the Black Professional of the Year Award. In 2004, the Bertha Laury Dental Center on Main Street in Buffalo was dedicated to serve the local community's basic dental care needs. Laury was the first African American woman to serve as president of the Health Care Plan Board of Directors, and the first chair of the Community Health Foundation in Western New York. She also served on the Board of Directors of Univera Healthcare.
Affiliation(s):
Social Work
Record Group(s):
35
---
Biographical File Contains: