Margaret A. Larsen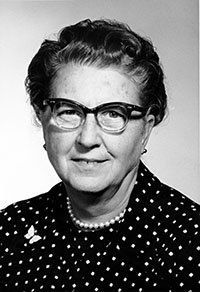 Born:
1901
Death:
1991
Margaret Larsen (Alma Margaret Larsen) served as the first full-time faculty member of the UB School of Nursing. With academic specialties in pediatric nursing and administration of nursing services, Larsen graduated from the University of Texas with a B.S. in Nursing in 1929. She taught at the University of Washington, Yale University, and the Children's Hospital in Buffalo before obtaining her M.S. in Nursing in 1943. In 1962 she earned at Ph.D. in Education from the University at Buffalo.
In addition to her teaching duties, Larsen fulfilled a host of professional commitments. She served as Chairman of many organizations and programs, including:
Anne Sengbusch Lectureship Series
New York State Nurses Association's Committee on Research and Studies District 1
Western New York League for Nursing's Committee on Historical Source Materials
She was also a member of the National League for Nursing, the American Nurses Association and Pi Lambda Theta, an International Honor Society for Educators.
In 1965, Larsen received a citation from the UB School of Nursing Alumnae "in recognition of ability and effort in guiding nursing students toward professional and personal excellence." Six years later, she retired.
Affiliation(s):
Nursing
Record Group(s):
38
---
Biographical File Contains: