Adelle H. Land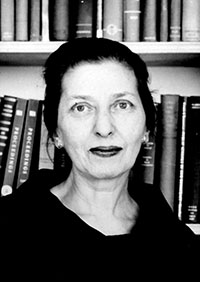 Born:
1901
Death:
1969
University Archives collection, 17/F/441
Adelle Land, a professor in the Graduate School of Education, was a lifelong contributor to UB. Upon graduation from Hutchinson Central High School in Buffalo, Land attended UB in the 1920s, obtaining both her bachelors and masters degrees. Land began her 46-year teaching career at UB in 1923 when she joined the faculty as an instructor in psychology and education. She was promoted to the position of Assistant Professor in 1932 before receiving her Ph.D. in Education from Columbia University in 1936. Four years later she was made Associate Professor, and in 1947 she became a full Professor at UB, a position she held until her death on June 8, 1969.
Land's contributions to the university and her department include innovative curriculum development and extensive professional activities.
She pioneered a team teaching approach long before the concept gained widespread approval, and helped develop the Teacher Education Program. Land participated in the organization and development of UB's Professional Unit in Education, serving as coordinator of the unit from 1931 through 1964. In 1968, Land served as the Acting chairman of the Department of Higher Education.
Land's professional activities were many and varied. In the 1930s and 1940s, she served as Chairman of the New Your State Committee of Supervisors of Student Teaching, and as the Secretary of the Board of the Youth Service Society in early 1940s. From 1941 to 1943 Land was the President of the Western New York Branch of the Progressive Education Association. She helped found Pi Lambda Theta, a national educational honor society for women, and was a member of both Kappa Delta Pi and Phi Beta Kappa of which she also headed the campus chapter from 1955 to 1956. In addition, Land was a member of the evaluation committee of the Commission on Secondary Schools of the Middle States Accrediting Association of Colleges and Secondary Schools.
Affiliation(s):
Education
Record Group(s):
17
---
Biographical File Contains: