Gail Paradise Kelly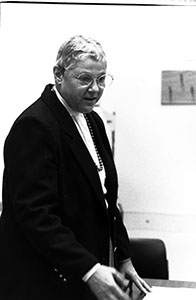 Born:
1940
Death:
1991
University Archives collection: (unprocessed collection)
Gail Paradise Kelly was a pioneer in the field of comparative women's education and a prolific scholar. When she passed away on January 21, 1991 at the age of 51, she was the author of two books, five monographs, twenty-four book chapters, twenty-three journal articles and the co-editor of eleven books.
Kelly obtained her undergraduate degree from the University of Chicago in 1962. By 1970 she had completed her master's degree in education from Indiana University. Five years later the University of Wisconsin-Madison awarded Kelly a Ph.D. in Education. The same year, Kelly joined the Graduate School of Education as an Assistant Professor, where she was to remain for the duration of her career in comparative education. She was promoted to the rank of Associate Professor in 1978 and was made full Professor in 1983. During her tenure at UB, Kelly also served as an Adjunct Professor in the Department of History.
While at UB, Kelly was extraordinarily active in both the Graduate School of Education and the entire University - especially in curriculum development. She assisted in the development of the doctoral program in comparative education and held a number of administrative and committee posts. She completed two terms as a member of the Presidential Review Board on Promotions and Tenure, participated in the President's Research Advisory Committee, and served as Chair of Department of Educational Organization, Administration, and Policy in 1988.
Kelly also served as President of the Comparative and International Education Society from 1986 to 1988. Also an editorial consultant, she often contributed to works published by SUNY Press and Praeger Publishers. She even was an Associate Editor of the Comparative Education Review for ten years, beginning in 1978.
From 1980 to 1981 Kelly was Director of a UNESCO-funded staff development program at Alvan Ikoku College of Teacher Education in Owerri, Nigeria.
Kelly was the recipient of several fellowships and grants:
Canadian Government Faculty Research Fellowship (1985)
National Endowment for the Humanities Summer Faculty Fellowship (1987)
New York State Council on the Humanities grant
Exxon Foundation grant
United Nations grant
Kelly's research resulted in an abundance of publications. She was well known for her research on comparative education, women's education and third-world education. Her text, From Vietnam to America (1977) focused on the plight of Vietnamese refugees in the United States, a concern that stemmed from her earlier involvement in the student peace movement during the Vietnam War. Other books co-edited by Kelly, Comparative Education(1982) and New Approaches to Comparative Education (1986), were widely used in the field of graduate education.
The Gail Paradise Kelly Memorial Lectureship, a lecture series on feminism and education with particular reference to their international context, was established in the early 1990s in her honor.
Affiliation(s):
Education, Educational Organization, Administration and Policy
Record Group(s):
17, 14
---
Biographical File Contains: