Ruth C. Bartholomew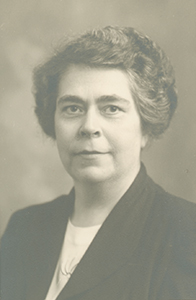 Born:
1899
Death:
1969
University Archives collection, 13/3/83
For those on campus during the 1920's and early 1930's, Ruth Bartholomew was the library. [...]
One of her early decisions was to adopt the Library of Congress classification, rather than the older Dewey Decimal system, which was used by the vast majority of libraries throughout the country. The wisdom of this decision has been verified by the vast number of academic libraries which are changing from the Dewey system to the Library of Congress classification. Thanks to Miss Bartholomew's foresight, the University has been spared the great expense which would be involved in such a transfer.
Miss Bartholomew supervised two library moves; the first was only five years after the opening of the library when the collection was moved from Foster Hall to larger quarters in the second floor of Hayes Hall. The second move took place in the spring of 1935, when the library was moved to the new Lockwood Memorial Library building. Under Miss Bartholomew's guidance, the library had grown to approximately 85,000 volumes in thirteen years.
In addition to building up the library collection, Miss Bartholomew also organized a dedicated library staff, most of whom remained with the library for many years, despite the relatively low salaries paid by the University. [...]
Her total period of active service to the University was forty-two years, which in itself is one of the longest records in University history.
The name of Ruth Bartholomew deserves a place on the honor roll of those who dedicated their lives to making the University what it is today.
-- Thomas S. Harding, letter to the editor of UB Alumni News published October 27, 1969
Affiliation(s):
Libraries
Record Group(s):
13
---
Biographical File Contains: