Gregory B. Jarvis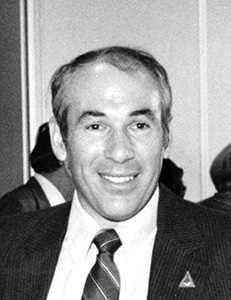 Born:
1944
Death:
1986
Gregory B. Jarvis was an electrical engineer (BS University at Buffalo, 1967; MA Northeastern University, 1969) who worked for the Hughes Aircraft Company's Space and Communications Group. When Hughes Aircraft Company was assigned two payload specialist slots for an upcoming NASA mission, Jarvis was selected from a pool of 600 candidates.
Though originally assigned to a March 1985 mission, Jarvis was bumped off the roster. This would happen again twice before he was assigned to the Space Shuttle Challenger. On January 28, 1986, the Challenger broke apart when one of its booster engines failed, killing Gregory Jarvis and his six crewmates.
On October 12, 1987, UB held a ceremony formally changing the name of Engineering East to Gregory B. Jarvis Hall. At the ceremony, Jarvis' widow Marcia presented UB with a commemorative plaque from NASA and the UB flag her husband took with him on the Challenger. Gregory Jarvis had originally intended to take the flag to space and return it to UB when he spoke at the School of Engineering and Applied Sciences' 1985 commencement ceremony. Being "bumped" off the March 1985 shuttle mission made this impossible. The flag was vacuum packaged and stored in the personal space allotted to Jarvis aboard the Challenger. It was found among the wreckage and given to his wife. When asked about taking the UB flag into space, Jarvis said, "I thought [UB] was a great school. It was academically challenging and rewarding. This is a small token I can perform for the way they unlocked my future." Gregory Jarvis' UB flag is now in the care of the University Archives.
Affiliation(s):
Mechanical and Aerospace Engineering
Record Group(s):
18
---