Lawrence D. Jacobs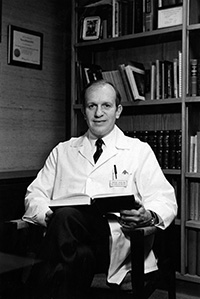 Born:
1938
Death:
2001
Lawrence Jacobs was born in Western New York on July 20, 1938. He received a B.S. in Natural Science from Niagara University (1961) and an M.D. from St. Louis University (1965). Jacobs returned to Buffalo in 1973, practicing medicine and researching in the field of neurology in local hospitals. He joined the faculty of the University at Buffalo's Department of Neurology that same year and would later become the department's chair. Through his research in the treatment of multiple sclerosis, Jacobs developed the drug Avonex.
Sources:

Lawrence D. Jacobs Curriculum Vitae, 1996.
"Lawrence D. Jacobs, pioneering MS researcher." UB Reporter, November 8, 2001.
Affiliation(s):
Medicine and Biomedical Sciences
Record Group(s):
19
---
Biographical File Contains:
CV
Obituary
Photographs
Publications