Selig Adler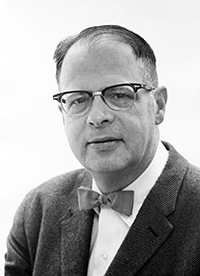 Born:
1909
Death:
1984
Selig Adler's long history with UB began when he was accepted to the university in 1928. He graduated from UB summa cum laude in 1931 and went on to receive his master's (1932) and doctorate (1934) degrees from the University of Illinois. Adler returned to UB in 1938, teaching in the summer and extension programs. In 1947, he joined the full-time faculty of the Department of History. By 1952, Adler achieved the rank of full professor and was appointed to the Samuel P. Capen Professor of American History in 1960.
Selig Adler's popularity with UB's students was reflected in high enrollment in his classes. His introductory and high-level history classes saw enrollment in the hundreds of students. Adler's end of the semester class reviews were uniformly positive with students often noting his enthusiastic and humorous approach to teaching history, his patience and his willingness to offer extra help when needed.
In 1960, Selig Adler and Thomas Connolly wrote From Ararat to Suburbia a seminal history of the Jewish Community in Buffalo and Western New York. Upon his retirement from UB in 1980, Adler became the archivist of the Jewish Federation of Greater Buffalo. Including material collected for his and Connolly's book, Adler created the Jewish Archive of Greater Buffalo. This collection was transferred to the University at Buffalo's University Archives in 2007 and forms the foundation of the University Archives' extensive holdings documenting the history of the Jewish Community in Buffalo and Western New York.
Affiliation(s):
History
Record Group(s):
22
---
Biographical File Contains: