George F. Hourani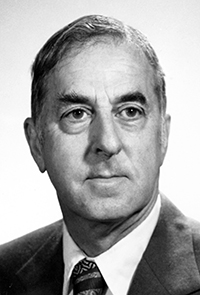 Born:
1913
Death:
1984
George Fadlo Hourani was one of the preeminent scholars of Islamic philosophy and Near Eastern History. Born in 1913 in Manchester, England, he received his B.A. in classics and philosophy from the Balliol College at Oxford University (1936) and his Ph.D. from Princeton University (1939).
George Hourani held a number of long-term positions in higher education including lecturer of philosophy and classics at the Government Arab College in Jerusalem (1939-1948); professor in the Department of Near Eastern Studies at the University of Michigan, Ann Arbor (1950-1967); and professor in the Department of Philosophy at the University at Buffalo from 1967 to his retirement in 1982. In 1982, Hourani received the title of Distinguished Professor of Islamic Thought and Civilization.
In 1956, George Hourani received the Ford Foundation Area Research Fellowship in Cairo, Egypt and in 1963 the Guggenheim Foundation Fellowship in Ann Arbor, Michigan, both for writing on Islamic philosophy. He authored numerous articles as well as several books including: Arab Seafaring in the Indian Ocean in the Ancient and Early Medieval Times (1963), Ethical Value (1956, reprinted in 1969), Islamic Rationalism: the Ethics of 'Abd al-Jabbar' (1971) and Reason and Tradition in Islamic Ethics (published posthumously in 1985).
Throughout his career, George Hourani participated in many national and international professional organizations. He was often celebrated for his professional insight into Middle Eastern culture. In 1991, UB Philosophy Department Chair Peter Hare stated that George Hourani was "unquestionably the leading specialist in Islamic thought in the United States. He had no peer."
Affiliation(s):
Philosophy
Record Group(s):
22
---
Biographical File Contains: