John Theodore Horton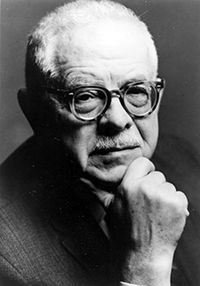 Born:
1902
Death:
1991
Born September 29, 1902 in Bolivar, New York, John T. Horton received his B.A. degree in 1926 from the University of Buffalo. He earned the M.A. and Ph.D. degrees in History from Harvard University in 1929 and 1935 respectively. Horton began his teaching career after graduating from the University of Buffalo and was appointed a regular faculty position in 1946. From 1948-1962, he served as the Chairman of the Department of History and Government. When the independent Department of Political Science was formed in 1962, Horton would serve as Chairman of the Department of History until his retirement in 1973.
In 1962, at Horton's suggestion, the University at Buffalo commissioned a ceremonial mace to be used at commencements, presidential inaugurations and other formal ceremonies. Horton helped design the mace and would serve as its bearer, leading the academic procession at commencement for many years.*
Horton taught in the areas of Federal, State, and Local Government, and New York State History, and was known to be an expert on the history of the Niagara Frontier. His book, James Kent: A Study in Conservatism, was awarded the Albert J. Beveridge Prize of the American Historical Association in 1939. Horton was the 1971 recipient of the University at Buffalo's Samuel P. Capen Alumni Award for his many years of service as a scholar, administrator, and teacher at the University. He retired from teaching in 1973 as Professor Emeritus and received the 1974 Augsperger Local History Award from the Buffalo and Erie County Historical Society.
*Edens, John. "50 Years Ago: The Mace." UB Reporter. January 12, 2012.
Affiliation(s):
History
Record Group(s):
22
---
Biographical File Contains: