Judith Hopkins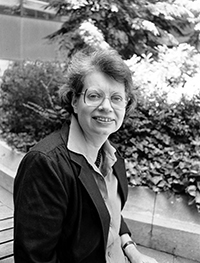 Death:
2014
University Archives collection: 13/10/1038
Currently, the Technical Services Research and Analysis Officer in Central Technical Services, Judith Hopkins is retiring this year after 27 years of service in the University Libraries.
Hopkins received her bachelor's degree in History from Wilkes College in Pennsylvania (1955) and her master's degree in Library Science from the University of Illinois (1957).
Currently, holding the rank of Associate Librarian, Hopkins came to UB in 1977 to work as a cataloger. She taught as an adjunct in UB's School of Library Science from 1979 to 1983. She has been a UB Faculty Senator since the 2000-2001 academic year. She also served as a senator during the 1987-1988 and 1992-1996 academic years.
Before coming to UB she was an Assistant Professor in the University of Michigan's School of Library and Information Studies. She also worked at the Online Computer Library Center (OCLC) in the early 1970s, an organization that today is dedicated to providing computer library services for more than 50,000 libraries in 84 countries and territories around the world. She was among the original staff and the first librarian hired to work at OCLC.
Hopkins received the SUNY Chancellor's Award for Excellence in Librarianship in 1985. "I'm the first person in technical services that have gotten it," Hopkins is quoted as saying in a July 1985 Reporter article. "Technical services librarians are backroom people that are generally not known to the public."
Hopkins co-authored Research Libraries and their Implementation of AACR2 (1986) with Assistant Director of the UB University Libraries, John Edens and is the author of a number of significant articles including "The French Cataloging Code of 1791 and the Origins of the Card Catalog" published in Libraries and Culture.
Hopkins is also the list owner of AUTOCAT, a library cataloging and authorities discussion group with over 3,600 subscribers in forty-five countries. She has been a member of the American Library Association (ALA) since 1957 and the New York Library Association since 1977, serving on various committees throughout her tenure. She is also a member of Beta Phi Mu, an international Library Science honorary society.
Affiliation(s):
Libraries
Record Group(s):
13
---
Biographical File Contains: