Endesha Ida Mae Holland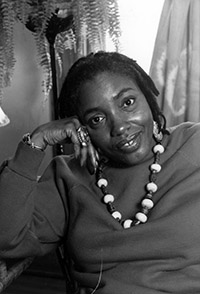 Born:
1944
Death:
2006
Endesha Ida Mae Holland joined the faculty of the University at Buffalo's Department of American Studies in 1985. She earned a B.A. (1979), M.A. (1984) and Ph.D. (1985) in American Studies all from the University of Minnesota. A critically acclaimed playwright, Holland was nominated for the Pulitzer Prize for her play "From the Mississippi Delta" in 1988. In 1993, she was recruited to the University of Southern California where she was playwright-in-residence and held a joint faculty appointment with the USC College of Letters, Arts and Sciences, and the School of Theatre. Holland retired from USC in 2003.
Sources:

Endesha Ida Mae Holland Curriculum Vitae, 1992.
"Endesha Ida Mae Holland, former UB playwright." UB Reporter, February 6, 2006.
Affiliation(s):
African-American Studies
Record Group(s):
22
---
Biographical File Contains: