Juanita Hunter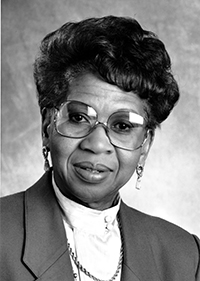 Archives collection: Buffalo State College, Monroe Fordham Regional History Center
"It's the people who have a passion for what they do that make a difference in the world," Professor Emerita Juanita Hunter once said, and her life story underlines her words. Juanita Hunter spent most of her academic life at UB. She retired from the School of Nursing as a full Professor in 1998 after serving the school and the community as both a scholar and a professor for almost thirty years.
Hunter began her post-secondary education by earning a diploma from the Edward J. Meyer Memorial Hospital School of Nursing. In 1971, she earned her bachelor's in Social Welfare at UB, where she continued for her master's in Nursing, which she obtained in 1974.
Hunter worked as a public health nurse coordinator at Buffalo Veterans Medical Center before joining the faculty of the School of Nursing in 1978 as an Assistant Professor of Community Health. In 1983, Hunter received her doctorate in Curriculum Development from UB.
She has a real passion for her work centered on human rights and care for the homeless. She chaired both the first New York State Nursing Association Committee on Human Rights and the American Nursing Association's Commission on Human Rights.
She was also Coordinator for the UB School of Nursing Center for the Homeless which provides health care services to the Buffalo area homeless. The Center, founded largely by Hunter's efforts in 1988, allowed Hunter to combine her community health background with her concern for disadvantaged populations.
For her dedication and effort, Hunter has been honored by state and local agencies. Hunter was given the Ruth T. McGrorey Award by the New York State Nurses Association (NYSNA) in 1980. In 1988, she was given the Honorary Human Rights Award from the American Nurses Association. Two years later, she was made fellow of the American Academy of Nursing. Hunter was also elected the first African-American president of NYSNA in 1987.
Although retired from teaching, Hunter is still active in the nursing profession. In 2003 she was given the Honorary Recognition Award at NYSNA's annual convention, the highest honor bestowed by the organization. She is also currently chair of the NYSNA Political Action Committee Board of Trustees, a group that helps to insure that nursing concerns are voiced during the political campaign.
Juanita Hunter has also been recognized as an Uncrowned Queen.
Affiliation(s):
Nursing
Record Group(s):
38
---
Biographical File Contains: