Peter Reyner Banham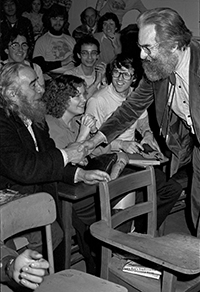 Born:
1922
Death:
1988
Peter Reyner Banham was born in Norwich, England in 1922. After working for the Bristol Aeroplane Company engineering department during World War II, Banham married his wife Mary on 16 August 1946. Banham conducted his architectural studies at the Courtauld Institute of Art, University of London, where he earned a B.A. and Ph.D.
Banham became a respected commentator and critic of architecture through his writings in Architectural Review and by holding regular informal gatherings to discuss contemporary art and design. Banham's first publication, Theory and Design in the First Machine Age, also his Ph.D. dissertation, in 1960 began his professional interest in industrial architecture and its impact on society.
From 1966-1972, Banham worked at University College London as a lecturer, professor, and administrator. In 1976, Banham joined the University at Buffalo's School of Architecture and Environmental Design as chair of the design studies department. Buffalo, being a waning industrial city, was an ideal location to study the impact of industrial architecture. Using Buffalo as a resource, Banham published Buffalo Architecture: A Guide (1981) and A Concrete Atlantis (1986).
Banham left Buffalo in 1980 to become professor of art history at the University of California Santa Cruz, a post he held until 1987, when he was appointed to the prestigious Solow chair at the Institute of Fine Arts at New York University. Unfortunately, Banham also discovered he had cancer.
Banham died on 19 March 1988 at the University College Hospital in London. Reyner Banham was an influential and well-known figure in the architecture field, known for his direct and sometimes brisk style. A prolific writer, Banham was praised for his lucid and informative style that didn't bog the reader down in jargon or details.
References:
Lyall, Sutherland . "Banham, (Peter) Reyner (1922–1988)." H. C. G. Matthew. Oxford Dictionary of National Biography. Ed. H. C. G. Matthew and Brian Harrison. Oxford: OUP, 2004. Online ed. Ed. Lawrence Goldman. May 2008. http://www.oxforddnb.com/view/article/39982, Last viewed 4 January 2010.
"Reyner Banham dies in London." UB Reporter. 7 April 1988.
Affiliation(s):
Architecture and Planning
Record Group(s):
44
---
Biographical File Contains: