Charles Atkinson Haynie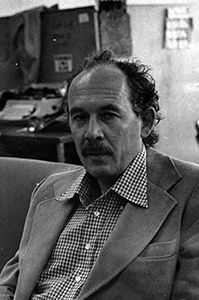 Born:
1935
Death:
2001
Charles Atkinson Haynie was former administrative coordinator and an instructor for the university's Leo Tolstoy College and a lecturer in the Social Sciences Interdisciplinary Degree Program. Born in Queens, New York, Haynie studied engineering physics at Cornell University. In 1956, Haynie left his graduate studies in mathematics and became involved in the civil rights movement. After a brief period doing engineering research, Haynie was a math instructor at Franklin and Marshall College and at Cornell University.
Haynie participated in numerous political, social, and environmental causes throughout his life, many of which influenced his popular courses. From 1963-1965, he was Field Director for a voter registration project in Fayette County, Tennessee, during which time he was also a Congressional lobbyist for various civil rights groups. In 1967 he worked with Massachusetts Political Action for Peace (Mass Pax) as a State Peace Organizer of anti-war delegations in all twelve congressional districts in Massachusetts. Haynie also participated in demonstrations against the Seabrook nuclear power plant in New Hampshire.
In 1969, Haynie came to Buffalo to teach at the university's free-thinking and experimental college, Tolstoy College. Teaching such courses as "The American Left," "Reactionary Movements," and "Grassroots Environmental Movements," Haynie was a voice of the liberal perspective on campus and in Buffalo. He was one of the "Faculty 45", a group of faculty members who were arrested during a campus protest in 1970. Haynie also ran for a Buffalo Common Council seat in the Delaware district in 1979 and helped organize the Buffalo Unity Day rally to ease racial tensions.
Haynie taught in the Social Sciences Interdisciplinary Program until his retirement in 2000. After a battle with cancer he died in 2001 at the age of 65. "Charles is remembered by his colleagues because he cared deeply about each individual student and demonstrated this concern through his involvement in the university, the local community and the nation," according to the Interdisciplinary Program website /cas.buffalo.edu/programs/idp/ugrad/news.html>. Each year a memorial award is given in his name to a graduating senior who exemplifies Haynie's commitments.
Affiliation(s):
College F (Tolstoy), Social Sciences
Record Group(s):
34, 22
---
Biographical File Contains: