Mary H. Gresham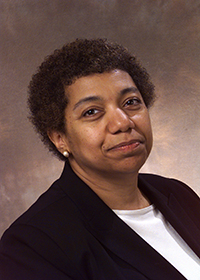 Mary Gresham has a long standing relationship with the University at Buffalo. She received her bachelor's degree in philosophy and psychology from UB. She then went on to complete a doctorate in counseling psychology. She is currently the Vice President for Public Service and Urban Affairs as well as the Dean of the Graduate School of Education and an Adjunct Assistant Professor in the Department of Counseling Psychology and in the Department of African American Studies.
As the Vice President for Public Service and Urban Affairs Gresham manages public service programs, some of which include public education, urban revitalization, and partnerships between the University and the Western New York region.
Currently some of the programs being nurtured under Gresham's guidance include: Millard Fillmore College, the University Community Initiatives, and the Institute for Local Governance and Regional Growth. She was also the first coordinator of fellowship programs for graduate minority students
Gresham is also very active in the community outside of her work life. She serves and has served on many community boards and committees. She is involved with the Buffalo Chapter of the American Red Cross, even serving on its Board of Directors for a period of time. She has also worked with the Buffalo Urban League, the National Conference for Community and Justice, Horizon's Health Management Group, and the United Way Board of Governance: Minority and Women Inclusiveness Project.
Gresham has been often recognized for her efforts. In 1994 she received the National Sojourner Truth Meritorious Award presented by the National Association of Negro Business and Professional Women's Clubs, Inc. She has also be the recipient of the University at Buffalo's Graduate School of Education Dean's Service Award.
Mary Gresham has also been recognized as an Uncrowned Queen.
Affiliation(s):
Public Service and Urban Affairs, Education
Record Group(s):
11, 17
---
Biographical File Contains: