Willis G. Gregory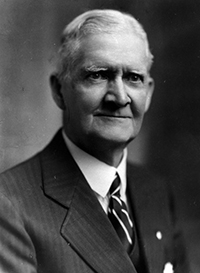 Born:
1857
Death:
1937
Willis G. Gregory was born in 1857 in the town of Theresa, New York. His family moved to Buffalo in 1863, where he later graduated from Buffalo High School. Gregory began studying in the University of Buffalo School of Medicine in 1880 and graduated in 1882 with a Graduate of Pharmacy degree (Ph.G.). When the School of Pharmacy was established at UB in 1886, Gregory joined the faculty as a professor of pharmacy and director of the school's Pharmaceutical Laboratory. In 1890, he became the dean of the School of Pharmacy, a position he would hold until 1936 when he stepped down and returned to teaching. Gregory was succeeded as dean by A. Bertram Lemon who would hold the position until 1954.
Sources:

Capen, Samuel P. [Remarks given at Willis G. Gregory's funeral], March 23, 1937
"Dr. Willis Gregory, former UB dean, dies." [Source Unknown], March 20, 1937.
"Pharmacy dean retiring in June." Buffalo Evening News, April 23, 1936.
Affiliation(s):
Pharmacy
Record Group(s):
36
---
Biographical File Contains: