Om P. Bahl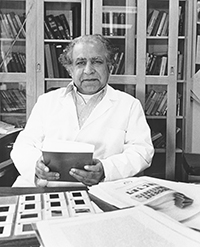 Born:
1927
Death:
2004
Om P. Bahl was a professor in the University at Buffalo's Department of Biological Sciences. He joined the faculty of UB in 1966 as an assistant professor in the Department of Biochemistry. Bahl was promoted to assistant professor in 1968 and full professor in 1971. He served as the director of the Division of Cell and Molecular Biology (1974-1977) and chair of the Department of Biological Sciences (1976-1983). His research in the 1970s led to the development of the home pregnancy test and his later research focused on the potential link between the hormone the pregnancy detects and cancer.
Sources:


Om P. Bahl curriculum vitae
"Dr. Om P. Bahl, developed home pregnancy test." Buffalo News, December 12, 2004.
Affiliation(s):
Biological Sciences
Record Group(s):
20
---
Biographical File Contains: