Wilson Greatbatch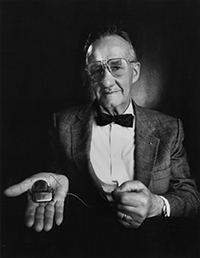 Born:
1919
Death:
2011
Wilson Greatbatch was born in Buffalo on September 6, 1919, and attended West Seneca High School. Interested in electronics from a young age, he served as a radio operator during World War II. Greatbatch earned a BS in electrical engineering (1950) from Cornell University and an MS in electrical engineering (1956) from the University of Buffalo. Upon graduating from UB, he became an assistant professor in electrical engineering at UB. In 1959, Greatbatch helped establish WBFO, the university radio station that would later become a founding member station of National Public Radio.
Wilson Greatbatch was best known as the inventor of the implantable cardiac pacemaker. He began engineering the device in 1956 and after four years, the first pacemakers were implanted in 10 people. In 1968, Greatbatch bought the rights to a lithium iodine design and developed it into a long-lasting battery for pacemakers. At the time of his death, according to the American Heart Association, more than half a million pacemakers were implanted every year.
Sources:

Feder, Barnaby. "Wilson Greatbatch, inventor of implantable pacemaker, dies at 92." New York Times, September 28, 2011.
Rey, Jay. "Inventor Wilson Greatbatch, 92, dies." Buffalo News, September 28, 2011.
Affiliation(s):
Medicine and Biomedical Sciences, Engineering and Applied Sciences
Record Group(s):
19, 18
---
Biographical File Contains: