Marjorie L. Girth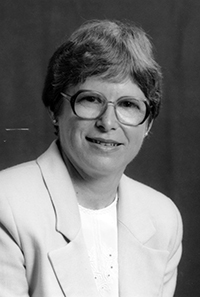 Born:
1939
University Archives collection: (unprocessed collection)
Marjorie Girth served at UB for twenty years. Born 1939 in Trenton, New Jersey, Girth received her undergraduate degree from Mount Holyoke College in 1959. Three years later, she graduated from Harvard University with a degree in law. Upon obtaining her J.D., Girth worked in private practice before joining the Brookings Institution's Governmental Studies Program as a Research Associate. In 1971, Girth joined the all-male faculty of the Law School at UB as an Associate Professor. Girth was the first woman to receive tenure in the Law School, and became a full Professor in 1979.
As a professor, Girth taught courses on debtor-creditor relations, contracts, sex-based discrimination, and bankruptcy reorganization.
Her interest in bankruptcy law led to the publication of Bankruptcy Options for the Consumer Debtor (1981) and Bankruptcy: Problem, Process, Reform (1971), which she co-authored. Girth also published Poor People's Lawyers in 1976. From 1986 to 1987, Girth served as Associate Dean of the Law School.
Girth has been a member of the American, New York State and Erie County Bar Associations, the Law and Society Association and the Society of American Law Teachers. In 1972, she was honored with the Centennial Award for Professional Achievement from the Alumnae Association of Mount Holyoke College. Girth also won the Outstanding Faculty Award from the Law School in 1981.
She served on the Erie County Commission on the Status of Women. Girth also served on the Commission on Peace, Justice, and Human Rights of the International Association for Religious Freedom in Frankfurt, Germany from 1976-1979. Girth was appointed by President Sample to serve on the President's Review Board on Promotion and Tenure Cases in 1987. In 1991, Girth was recruited by the Georgia State University College of Law and hired as Dean. She returned to teaching full-time at GSU in 1996.
Affiliation(s):
Law
Record Group(s):
21
---
Biographical File Contains: