Robert J. Genco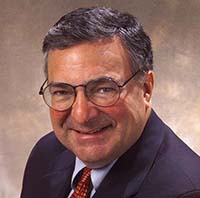 Born:
1938
Death:
2019
Dr. Robert J. Genco was born in Silver Creek, New York in 1938. His education includes: Silver Creek High School, BA in biology from Canisius College (1959), DDS from the University at Buffalo (1963), and a doctorate in microbiology and immunology from the University of Pennsylvania (1967).
Dr. Genco's career at UB began in 1968, and he remained at the university until his death in 2019. He was chair of the Department of Oral Biology (1977-2002), vice provost of the Office of Science, Technology Transfer and Economic Outreach (2002-2016), SUNY Distinguished Professor Oral Biology, Periodontics and Microbiology, and Director of the Microbiome Center.
Dr. Genco's research focused on the link between overall health and gum disease. Throughout his five decade career, he wrote or co-wrote over 400 articles, wrote or contributed to 30 books, held 11 patents and was awarded several million dollars in grant research funding.
Robert J. Genco died March 6, 2019 in Buffalo, New York.
Sources:

Robinson, Marcene. "Longtime UB faculty member Robert Genco dies at 80." UBNow, March 7, 2019.
Neville, Anne. "Robert J. Genco, 80, renowned UB researcher was called father of oral science." Buffalo News, March 8, 2019.
Affiliation(s):
Research, Provost, Dentistry
Record Group(s):
10, 7, 37
---
Biographical File Contains: