Mitchell Franklin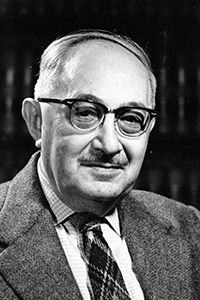 Born:
1902
Death:
1986
Mitchell Franklin was born in 1902 in Montreal, Canada. He attended Harvard where he received his Bachelor's (1922), Juris Doctor (1925) and Doctor of Juridical Science (1928) degrees. In 1930, Franklin became a professor at Tulane University, where he taught law until his retirement in 1967.
Franklin was known as a well-traveled lawyer, professor, legal advisor, and philosopher. He was one of the foremost scholars in Marxist legal theory and much of his work focused on, but was not limited to Hegel, Kantian and Marxist philosophies, Comparative, Roman, Civil and International laws. Franklin also took a particular interest in Louisiana law as it differed from the rest of the United States and became a focus of comparison for much of his work.
Upon his retirement from Tulane, Franklin became a professor at the University at Buffalo where he held a joint appointment in the School of Law and the Department of Philosophy until 1974. After his death in 1986, Franklin's widow donated his papers to the University Archives. The papers include Harvard class notes, judiciary memos, his translations of German and French legal codes, teachings, writings and correspondence.
Franklin's extensive career spanned almost seven decades. Over the years, his advice and council were sought by many including the United Nations, the United States Army, the National Lawyers Guild, and by students at two different universities.
Affiliation(s):
Philosophy, Law
Record Group(s):
22, 21
---
Biographical File Contains: