Shonnie Finnegan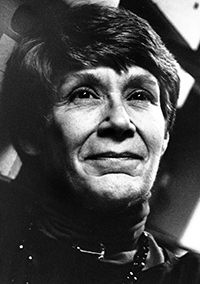 Born:
1931
Marchand "Shonnie" Finnegan was instrumental in the development of the University Archives at UB. When she started in 1967, she gathered the earliest records of the University from the attics and closets of former staff, faculty, and students. Understanding how materials like yearbooks, publications, manuscripts, and records document the rich heritage of UB, Finnegan actively pursued the many collections that make up the majority of the Archives today.
Early on she also realized the importance of collecting the records of women's history. Some of the most important women's events of Buffalo and Western New York are recorded in the University Archives collections. They might have been lost to history, if Finnegan did not have the foresight to gather them for the University Archives. ¹
Finnegan's many contributions to UB were recognized in 1979, when she received the Chancellor's Award for Excellence in Librarianship. Although she retired in 1997, Finnegan continues to be a familiar presence in the Archives.
Finnegan's knowledge of UB's history and Western New York are unsurpassable. Her research on local and women's history, archival theory/planning, and confidentiality issues have often led to numerous presentations and papers. Her council is still sought by many of the archival repositories in the area. Finnegan served as a member of the Board of Managers of the Buffalo and Erie County Historical Society and as Director of the Buffalo Community Studies Group. In 1976, Governor Cuomo appointed her to the New York State Historical Records Advisory Board, which she served on from 1976 to 1985.
Since her early days as an archivist, Finnegan has been an active participant in the Society of American Archivists (SAA). Serving on countless committees and councils, she has been very involved with the Committee on Status of Women in the Archival Profession and the Committee of College and University Archives. In recognition of this service, Finnegan was elected Fellow of the Society in 1975 and later served as President from 1985-1986. From 1980 to 1984, she represented SAA on the National Archives Advisory Council.
Her administrative activities at UB included extensive participation in the SUNY at Buffalo Chapter of the American Association of University Professors (AAUP), including the positions of Secretary, Vice President and President, as well as work on the National ad hoc Academic Freedom Investigating Committee. In addition, Finnegan has participated in UB's faculty senate and in the administration of the University Libraries.
¹ For more information on what papers are in the women's collection at the University Archives please see the Thematic Collections page on our website.
Affiliation(s):
Libraries
Record Group(s):
13
---
Biographical File Contains: