Leslie Fiedler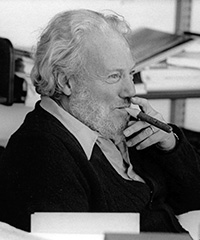 Born:
1917
Death:
2003
Leslie Aaron Fiedler was born March 8, 1917 in Newark, New Jersey. Fiedler left Newark as soon as he could and ventured north to pursue his education. After receiving his B.A. from New York University in 1938, Fiedler pursued graduate studies in English at the University of Wisconsin where he received both his M.A. and Ph.D.
Fiedler's first academic position was at Montana State University, Missoula, where he was hired as an assistant professor in 1941. In 1963 he transferred to the State University of New York at Buffalo where he remained for the duration of his career.
From 1974 to 1977, Fiedler served as chair of the University's Department of English. He was promoted to SUNY Distinguished Professor in 1987 and in 1989 he received the Chancellor Charles P. Norton Medal, the highest award given by UB. Fiedler held the department's prestigious Samuel L. Clemens Chair for thirty years. After his death in 2003, the position was renamed the Leslie A. Fiedler Chair.
Affiliation(s):
English
Record Group(s):
16
---
Biographical File Contains: