Leon E. Farhi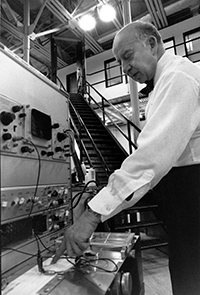 Born:
1923
Death:
2003
Dr. Leon E. Farhi was born in Cairo, Egypt and received his medical degree from the Universite Sainte Joseph, Beirut in 1947. He completed postdoctoral fellowships at the University of Rochester Medical School, 1953-1954, and John Hopkins University, 1954-1955.
Dr. Farhi came to the University at Buffalo in 1958 and was promoted to full professor in 1966. He served as Chair of the Department of Physiology from 1982-1991; in addition to being named SUNY Distinguished Professor in 1989. Dr. Farhi received many awards including the Stockton Kimball Award from the University at Buffalo School of Medicine and Biomedical Sciences. He was also named an Alexander von Humboldt Foundation Senior Fellow. He was active in the American Physiological Society and held appointments to the editorial boards of various journals including the Journal of Physiology, Journal of Applied Physiology, and Respiration Physiology.
Farhi's research led the fields of pulmonary medicine, environmental physiology and bioengineering for over 35 years. His studies included physiological problems of human lung gas exchange and he was involved in developing new methods for measuring cardiac output and distribution of respiratory gases in the lung and tissues of the human body.
Affiliation(s):
Physiology
Record Group(s):
19
---
Biographical File Contains: