Sarah Elder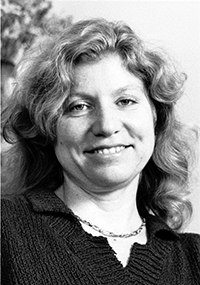 Sarah Edler's work focuses on the practices of filming across cultural and social boundaries. She is well-known for her award-winning documentaries on the Arctic's indigenous groups.
"While growing up, Elder said she was cautioned to avoid working in a field that traditionally was a male domain. She defied the odds and today, although still one of the few women in her field, has received dozens of major international film awards, represented the United States in virtually all major international ethnographic film festivals over the past 20 years and has been an organizer and consultant to important traveling exhibitions, including the annual Margaret Mead Film Festival sponsored by New York City's American Museum of Natural History."
Elder received her bachelor's degree from Sarah Lawrence College and her M.F.A. from Brandeis University. Currently she teaches documentary film including courses in non-fiction critical studies, documentary production, experimental documentary, theory and practice of editing, ethnographic film and video, media ethics and story telling in the Department of Media Study. She also heads the department's Documentary Program.
As an adjunct, Elder teaches courses in the American Studies program and in the Anthropology Department at UB. She is also an active member of the Society for Visual Anthropology (SVA), an affiliate of the American Anthological Association (AAA). Elected to the board of directors of the Society in 2004, Elder is also a contributor to their scholarly journal, The Visual Anthropology Review.
Elder also regularly publishes on documentary theory and production issues. She has served as a consultant for international exhibitions on the Pacific Rim and North America.
Elder's films have won three consecutive first prizes at the American Film Festival, among many other significant international awards. Some of her award-winning films include:
On the Spring Ice (1976),
winner of the CINE Golden Eagle Award in 1977 and First Prize at the American Film Festival
Overture on Ice (1983),
winner of First Prize in the Sinkling Creek Film Festival, as well as special honors from the National Endowment for the Arts (NEA) and the Alaska State Legislature
Every Day Choices: Alcohol and an Alaskan Town (1985),
winner of the American Anthropological Association's Award for Excellence
Uksuum Cauyai: The Drums of Winter (1988),
winner Three First Prize Bronze Eagles -- best documentary feature, best documentary direction, and best cinematography -- at the Santa Fe Native Americas International Exposition in 1996
Affiliation(s):
Media Study
Record Group(s):
16
---
Biographical File Contains: